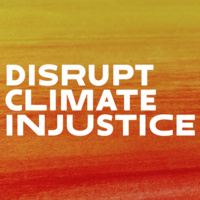 MONDAY, FEBRUARY 26, 2018 AT 6:00 PM to 7:30 PM 
Bob & Sheila Hoerle Lecture Hall, Rm: UL105, Uni. Center, 63 Fifth Avenue, New York, NY 10003
Join us as The New School kicks off a week-long, university-wide curriculum disruption, interrupting "business as usual" and turning our attention to climate change and its implications, particularly the unequal and devastating impacts on the most vulnerable and least responsible communities around the globe.
Jainey Bavishi, Director of the NYC Office of Recovery and Resiliency, joins Michelle DePass, Director of the Tishman Environment and Design Center and Dean of the Milano School of International Affairs, Management, and Urban Policy to discuss the importance of climate action, how to create just solutions for climate change problems, and the role of government and civil society in achieving climate justice.
Jainey K. Bavishi currently serves as the Director of the NYC Mayor's Office of Recovery and Resiliency and Deputy Chief Resilience Officer, where she leads the City's OneNYC resiliency program, preparing the city for the impacts of climate change and other 21st century threats.
Jainey most recently served as the Associate Director for Climate Preparedness at the White House Council on Environmental Quality. In this role, she led the implementation of the climate preparedness pillar of the President's Climate Action Plan. In the final year of the Obama Administration, she was responsible for embedding and institutionalizing climate resilience considerations across Federal programs and policies; advancing climate equity to address the disproportionate impacts of climate change on low-income and other vulnerable communities; and developing innovative approaches to climate adaptation finance.
Prior to this, Jainey served as the Executive Director of R3ADY Asia-Pacific based in Honolulu, Hawaii, where she was responsible for initiating, expanding and managing the start-up public-private partnership, which focused on enhancing disaster risk reduction and resilience in the Asia-Pacific region. Previously, she served as the Director of External Affairs and Senior Policy Advisor to the Administrator at the National Oceanic and Atmospheric Administration (NOAA) in Washington, DC. She was also the Founding Director of the Equity and Inclusion Campaign, a coalition of community-based leaders in the Gulf Coast region that focused on recovery from Hurricanes Katrina, Rita, Gustav and Ike, at the Louisiana Disaster Recovery Foundation. Jainey has a Master's degree in city planning from the Massachusetts Institute of Technology and Bachelor's degree in public policy and cultural anthropology from Duke University.
Michelle J. DePass is the Dean of the Milano School of International Affairs, Management, and Urban Policy and Tishman Professor of Environmental Policy and Management. She joined Milano in November 2013 coming from the Environmental Protection Agency (EPA), where since 2009 she had served as Assistant Administrator for International and Tribal Affairs. In this presidentially appointed, Senate-confirmed position, DePass had been responsible for all dimensions of environmental policy between the EPA and other nations, federally recognized tribal nations, and multilateral institutions and donors.
Prior to joining the EPA, DePass was a Program Officer at the Ford Foundation, with a portfolio focused on the environment and community development, most notably green economy and climate change, environmental health and justice and indigenous environmental rights. In her two-decade career in sustainability and public service, DePass has also served as founding Executive Director of the New York Environmental Justice Alliance, Senior Policy Advisor to the commissioner of the New Jersey Department of Environmental Protection, environmental manager for the City of San Jose, and co-founder of the Gulf Coast fund for community and ecological renewal. A lawyer by training, DePass was also the Kunstler fellow for civil rights at the Center for Constitutional Rights here in New York City. She is a sought-after civil society leader and has served on dozens of boards and advisory committees to government, NGO's and international organizations. DePass holds a bachelor's degree from Tufts University, a Juris Doctor from Fordham Law School and a Master of Public Administration from Baruch College, where she was a National Urban Fellow.
This event is sponsored by the Tishman Environment and Design Center at The New School.